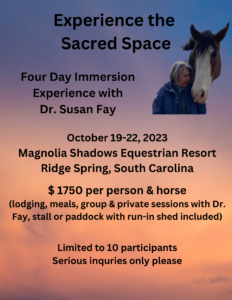 Experience the Sacred Space
Four-day Immersion Retreat
with
Dr. Susan Fay
October 19-22, 2023
Ridge Spring, South Carolina
This retreat is going to be incredible!
Four days with Dr. Fay, like-minded horse people, amazing equine teachers, and gourmet meals in a charming country setting. This is an opportunity immerse in Dr. Fay's teachings and to practice her techniques with your horse under her guidance and coaching.
Magnolia Shadows is a beautiful 50-acre facility in the quiet countryside of Ridge Spring, South Carolina.

Visit Magnolia Shadows for more information on the venue. The facility has nice human and horse accommodations.  There is an onsite restaurant that will cater gourmet meals. The property includes a saltwater pool, campfire area, picnic area, riding arena, trails, and round pen.
We are renting the entire facility for our retreat so the prices on the website do not reflect our rates.

Retreat Schedule
We are still in the early stages of planning the schedule. We want the clinic to unfold organically based on what happens and the participant's/horse's needs. The weekend will consist of group sessions, demos with Dr. Fay, and individual sessions. Sessions may be on the ground, in the saddle, or a combination of both – it is the participant's choice. After assessing the participants' needs before the clinic, we will develop a schedule for the retreat.

Registration will start at 9:00 am Thursday and the Opening Session will be at noon. We will end around 3:00 pm Sunday.

There will be some (probably not much) free time to explore the grounds, ride the trails or just relax under the magnificent magnolias. If participants are interested, we can add yoga sessions and sunrise meditations.

General
What is the registration price? $1750 per person & horse.  

What is included in the registration price? Lodging, all meals, group and individual sessions with Dr. Fay, stall or paddock with run-in shed for your horse.

When is the registration deadline? May 1, 2023
Registration is first come, first served with preference given to participants with horses.

When is payment due? A non-refundable deposit of $500 will be due June 1, 2023, and the remainder due August 1, 2023.

What payment methods will be accepted? PayPal, Credit Card, Check, and possibly Zelle. Processing fees may apply for PayPal & Credit Cards.

Will my money be refunded if I can't attend? Registration fees are non-refundable unless your spot can be filled. In case of an emergency, a partial refund may be available if your spot can be filled. Reserving the facility & holding the clinic is based on having 10 participants to cover expenses.

Is auditing allowed? Auditing is not available due to the nature and structure of this retreat.

What if my spouse/partner wants to come but will not be participating? You will need to request one of the B&B rooms. There will be an additional fee for meals. Contact Laura for details.
What if my spouse/partner/friend wants to come with me and audit? Contact Laura to discuss.

Lodging & Meals
What are my lodging options? The facility has three bed & breakfast rooms with king beds. The cottage has two bedrooms, five beds, and a pull-out sofa bed with one bathroom. There may be three campsites with water & electricity but no bathhouse/toilet is available. We will not know the availability of these until closer to the event.
Requests for accommodations are on a first-come, first-served basis. I will do my best to honor your requests/needs but we are limited to what the facility offers.
Can I come in early or stay an extra night? Yes, these bookings will be at the regular Magnolia Manor rates.
What's on the menu? There is an Italian restaurant on-site and Cecilia will wow us with amazing evening meals. Breakfast will most likely be grab & go, with a full menu sit-down breakfast one morning. Lunch will be a salad or sandwich and dessert. Once we have committed participants, we can discuss menu options/preferences.
What if I have a special dietary requirement? Discuss these with Laura.

Equine Information
–  Horses must have a negative Coggins test within the last 12 months and a health certificate if traveling from out of state.
–  Horses must have basic handling skills and be well-behaved in a paddock or stall setting.
–  No stallions.
–  There are stalls and paddocks with run-in sheds available. Fencing and footing are safe. Depending on the number of horses, some of the paddocks may be divided by electric fencing. The paddocks are quite large – more like pastures.
–  Participants are responsible for their horse's care and stall/run-in cleaning.
–  Stalls are dry. Bagged shavings are $10 per bag or you may bring your own.
–  Participants should bring feed, buckets, hay, etc. 

For additional questions or to reserve your spot, email Laura at 3laurathomas@gmail.com   Serious inquiries only, please.