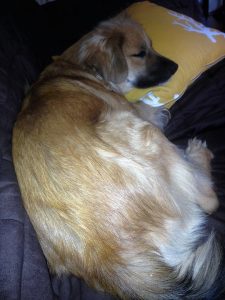 What is Animal Reiki? A Google search might leave you a little bewildered because of the differing approaches and perspectives. So, today I am going to talk a little about what Reiki is and the approach I use with animals.
First, What is Reiki?
Reiki is a meditative system of spiritual practice developed in Japan in the early 20th century. Rei means spirit and ki means energy, translated as "spiritual energy". Reiki is all about light, love, harmony, balance, compassion and peace. It is creating a meditative state of mind to foster compassion within ourselves and for others, which facilitates healing.
What Exactly is Animal Reiki?
Animal Reiki is meditating with animals to create a compassionate healing space to relieve stress, promote relaxation, harmony, balance and a sense of overall well-being. It honors the animal as an equal partner in the healing process. The animal can move freely in the healing space during the session. "Hands-on Reiki" is used only if initiated by the animal. Reiki is just as effective from a short distance as it is hands-on. By creating this compassionate space, the animal receives the healing energy he or she needs, not what we humans think the animal needs. I like to involve the animal's person in Reiki sessions because animals often feed off our energy and stress. People find they are more relaxed and peaceful after a Reiki session with their animal, which in turn, helps the animal relax and heal.
How Can Reiki Help an Animal?
Reiki compliments your animal's health and wellness program because it is safe, noninvasive, and does not interfere with medical/veterinary treatments. Reiki can do no harm and effectively addresses physical, emotional, spiritual, and mental issues of animals. Reiki always heals on some level, even if we do not see it. Reiki promotes a sense of harmony, peacefulness and overall well-being, which allows the animal's body to heal itself.
What Animal Reiki Approach Do I Use?
Often Reiki practitioners use the same approach with animals as with humans, and this is not always effective. Animals are much more sensitive to energy than humans; often the "hands on approach" is overwhelming or off putting to them. I use Kathleen Prasad's Let Animals Lead™ approach. Kathleen developed this approach over 20 years ago when she realized human Reiki techniques were not working well with animals. Let Animals Lead™ combines traditional Japanese Reiki practices with honoring the sensitivities, preferences and wisdom of animals. Kathleen has used her experiences with thousands of animals to hone and perfect her method and is considered the world leader in Animal Reiki. I am in gratitude to Kathleen for sharing her approach and am honored to continue to learn from her.
What Do I Not Do?
As an Animal Reiki practitioner, I do not diagnose conditions, prescribe nor perform medical treatment, nor interfere with the treatment of a licensed medical professional. I always recommend an animal be taken to a licensed veterinarian or licensed health care professional for any ailment, condition or concern.
I hope this article answers some of the questions you might have about Animal Reiki and my approach. For more information about Kathleen Prasad's Let Animals Lead™ and for hundreds of articles about how the approach helps animals, visit www.animalreikisource.com. For questions or to schedule a session for your animal companion, contact me at 803-315-9977 or 3laurathomas@gmail.com.
Stay tuned – In the coming days, I will be sharing more about animals and Reiki, as well as stories of how Reiki has helped me, my animal family and my client animals.